Travel to Kenya, Explore Kenya and Discover Kenya Exotic Destinations!
Choose your budget tour with safari specialist.
Your Kenya adventure safaris travel style will be determined by how much you've planned to spend on safari. Before you travel to Kenya, you definitely know how much you are going to spend. Having this in mind should help you point out the travel package to choose. If budgeting is your priority and you are looking forward to a cheaper safari option, then a group safari in Kenya is recommended. A scheduled Kenya adventure safari is also affordable, however it is less popular due to rigidity on scheduling and destinations. Though if it fits your travelling plans and budget, scheduled trips are the best! check out some our great Kenya adventure safari experience deals now with the safari experts African Home Adventure Safari!
Masai Mara
This reserve adjoins Tarzania's Serengeti National Park. July to September is especially fascinating as the Mara is endowed with millions of alluring sites including the migration of wildebeest and zebras across the Mara River into Masai Mara National Reserve. A wide variety of other animals are seen in large numbers including gazelle, topi, buffalo, impala, hartebeest, giraffe, elephant, cheetahs, eland species as well as lions, lepard, hyena, wild dog, jackal, rhino, hippos and other antelope species.
Lake Bogoria
Famous for the breathtakingly powerful eruption of its geysers, Lake Bogoria also provides a rare refuge for a brawny species of antelope known as the Greater Kudu. Enhancing the visual ambiance of the lake are massive numbers of pink and white flamingos.
Lake Baringo
This shallow lake is home to fish, and hippo along its shores, howerver it is most known for its fascinating array of bird life, which includes more than 300 species (the most in Africa).
Lake Naivasha & Lake Nakuru
Lake Naivasha is a fresh water lake with fish, hippo and many birds. Lake Nakuru is home to a rare species of giraffe known as the Rothschild's Giraffe and sanctuary to the rhino. It is world famous for its masses of flamingos and is also known as Pink Lake.
Amboseli
Inhabited by a multitude of wildlife including huge herds of elephants, leopards, rhinos, and antelope. Amboseli is the epitome of the African Continent. Snow capped Mt. Kilimanjaro can be seen in every part of this area which historically has been a cinema photography treasure to the film industry.
Meru Park
Meru National Park is located to the east of Mount Kenya and is inhabited by an assortment of wildlife which includes: black rhino, leop­ard, elephant, zebra, lesser kudu gerenuk, oryx, lion, giraffe as well as hartebeest and Grant's Gazelle.
Nairobi National Park
This conveniently located National Park landscaped with plains is occupied by a variety of mammals. Permanent pools and waterholes are also a perfect habitat for crocodile and hippos.
Hells Gate
The plains area of this park provides grazing to giraffe, zebra, and various antelope species. A number of birds of prey can be seen flying above the park which also consist of a spectacular gorge that inspired its name.
Tsavo East & Tsavo West
These twin parks consisting of arid flat plain bush and baobab trees in the east and Mzima Springs in the west forms Kenya 's largest National Park. Collectively with Chyulu Hills National Park, this region forms the largest protected wilderness area in the world, spanning over 21,000 sq. km. Nestled between Nairobi and Mombasa, and with many air strips, the parks are conveniently accessible by road or air. The eastern region of the park is inhabited by "Red" Elephants". Leopards and various other mammal including elephants make their home in the west. The springs in this area form a natural attraction for hippo and crocodile. This region of the Park is also a natural route for birds migrating to the south during the months of October and November.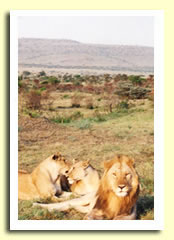 Samburu
The Samburu National Reserve is located approximately 90 km north of Mount Kenya. Crocodile, zebra elephant, giraffe and Vervet Monkey inhabit this diverse setting of acacia woodland, bush, and scrubland. Also seen are the blue flanked Somali Ostrich, the Beisa Oryx, and the rare Grevy's Zebra.
Mount Kenya and The Aberdares
Snow capped Mount Kenya, the second highest mountain in Africa provides picturesque scenery and a diverse array of wildlife which includes eland and zebra at the base. An occasional sitting of elephant and Cape Buffalo may be seen in the moorland. Black and white colobus monkeys are often seen swinging through the trees in the wooded areas. Other Kenya wildlife safari includes Rock Hydrax, Duiker, Black Rhino Suni Antelope and leopard. The bird life seen in the forest area includes the Abyssinian Long Eared Owl (a rare species), Ayre's Hawk Eagle, and sunbirds. The Aberdares National Park is one of Kenya 's largest forest reserves. The landscape includes high alpine moorland as well as primeval aloe forest. Among the wildlife are leopard, rhino, elephant, bongo, and occasionally a rare species of striped antelope.